Tibet Can't Kick Its Subsidy Habit
By Dexter Roberts
As China's economy settles into slower growth, President Xi Jinping has been touting the benefits
of what he calls the "new normal," including a more equitable distribution of income and less pollution.
But one region isn't ready to give up on double-digit growth. "We must grow faster," says Deng Xiaogang, executive vice chairman of the Tibet Autonomous Region, one of the poorest, least industrialized areas in the People's Republic. "There is a gap between us and the rest of the country."
For the past two decades, Tibet's economy has outperformed China as a whole. Its growth has averaged 12.4 percent annually over that period, compared with a national average of about 10 percent and Beijing's 2015 target of 7 percent. But these statistics are misleading: The Tibetan miracle is the result of massive subsidies that have done little to foster productive enterprises in the territory of 3.15 million people.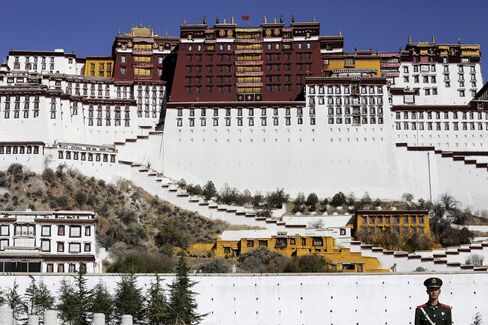 Since China annexed Tibet in 1951 and its religious and political leader, the Dalai Lama, fled into exile in India, the central government has sent more than 648 billion yuan ($100 billion) to the region. Beijing's subsidies have funded massive transportation and power projects, including a 156-mile-long rail link from Tibet's capital, Lhasa, to Shigatse, the region's second-largest city, completed last year at a cost of 13.3 billion yuan.
The 9.6 billion-yuan Zangmu hydropower station, on the Yarlung Tsangpo River, became fully operational in October. Andrew Fischer, a professor at the International Institute of Social Studies in The Hague and an expert on Tibet, says subsidies from Beijing dwarf the local economy, amounting to about 112 percent of economic output, which was 80.8 billion yuan in 2013. Fischer says it's "more than one would see in a highly aid-dependent African country."
The region's ethnic Tibetan residents often derive little direct benefit from the investments. Almost all the materials for the infrastructure projects are imported from the rest of the People's Republic, often along with work crews. "A lot of the construction is not oriented towards building a productive, local economy," says Fischer. Instead, Beijing's aim is to tether Tibet tightly to the economies of China's provinces.
There has been a huge influx of Han—the majority ethnic group in China—into the region seeking to set up businesses. Beijing's policymakers have paired 18 provinces and cities in China with counties and towns in Tibet. The Chinese counterparts have been ordered to build schools, set up businesses, and send officials to work in Tibet for stints of up to three years. China's biggest state enterprises, including Sinopec, China National Gold Group, and PetroChina, have also been instructed to invest in Tibet.
One side effect of Beijing's subsidize-and-invest policy is that Tibet is afflicted by a version of the profligacy that helped lead to China's own slowdown. The region is plagued by inefficient and money-losing state-owned enterprises. As of 2013, they accounted for about 22 percent of all companies in Tibet, compared with 2 percent in all of China, according to a recent research paper written by Jin Wei, an expert on China's ethnic minority policy at the Central Party School in Beijing.
The state-run companies in construction, mining, and the tourism industry also exacerbate ethnic tensions. They are not big employers of Tibetans, the majority of whom make their living as herders and farmers.
Many Tibetans chafe under China's heavy-handed rule, including a ban on open veneration of the Dalai Lama. Beijing knows that integrating the people of the region into the economy is crucial to controlling unrest. The central government's "game all along has been to get a critical mass of Tibetans that have a vested interest in the status quo, so they will be quiet," says Robert Barnett, director of the Modern Tibetan Studies Program at Columbia University.
To encourage small and midsize enterprises in industries such as tourism and traditional medicine, the government is offering tax exemptions, preferential interest rates, and access to public land and state contracts. "Lhasa's development is not just for GDP. It's to satisfy the people's livelihood, employment, and income," says Lhasa's Communist Party Secretary Qi Zhala, an ethnic Tibetan.
Lobsang, a 50-year-old herder who like many Tibetans goes by a single name, has profited from the policies. China's foreign ministry arranged for a group of foreign reporters to meet him as part of a tightly monitored four-day excursion into Tibet, the only way media are allowed access.
Lobsang still raises animals—30 yaks, 40 sheep, and a horse—but now makes far more money,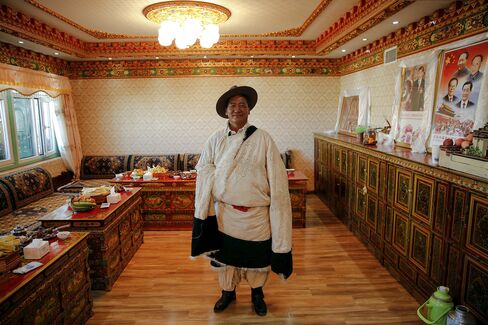 100,000 yuan a year, ferrying passengers in and out of the capital in his 14-seat minibus. He used to live in a mud hut without electricity or running water. Five years ago, he moved his family into a two-story stone house along the highway from Lhasa to Namtso Lake. A 90,000-yuan grant from Beijing covered about a third of construction costs, paying for flourishes such as intricately painted window frames and ceiling beams. "I never imagined I could live so well as I do today. I must thank the government for all its help," says Lobsang, who joined the Communist Party in 1988.
The greater beneficiaries of China's Tibet policy may be the Han migrants who, eager to make their fortunes, have come to the region. Officials stress that non-Tibetans make up just 8 percent of the permanent population, but independent groups says that it's senseless not to count the large number of migrants who live and do business in Tibet, often for years at a time.
One 30-year-old Han migrant, who hails from Shiyan, in Hubei province, came to Lhasa in June of this year. He declined to give his name because of the sensitivity of the ethnic situation. Now he runs a tourist shop selling Buddhist statuary and prayer beads in a market near the Jokhang,
Tibet's most sacred temple. He will stay for no longer than three years because the high altitude and temperature extremes are hard on a person's health, he says, which is why he left his wife and 6-year-old son back home in Hubei. "The government gives huge subsidies to Tibet, because it doesn't want the Tibetans to protest," he says. "That drives the whole economy and helps our business, too."
A 27-year-old ethnic Tibetan who earns his living driving Buddhist pilgrims to the holy spots around Namtso Lake has no kind words for the new arrivals: "The Chinese just come to Tibet to steal our business."
Officials in Lhasa say incubating industries run by locals is a priority, as is lessening the region's reliance on subsidies. "I don't dare predict what day Tibet will be able to develop independently," says Ma Jinglin, vice director of the Development and Reform Commission of Tibet, a government body. "It takes time to build industries that will create blood for ourselves, rather than getting a blood transfusion."
The bottom line: Still-poor Tibet's GDP grows at double-digit rates, fueled largely by Chinese subsidies.