UK criticizes 'unacceptable' treatment of diplomats at China trial of human rights lawyer
Britain has issued a rare rebuke to Beijing, slamming Chinese authorities' "completely unacceptable" treatment of foreign journalists and diplomats who were manhandled by police and undercover agents outside a free speech trial in the capital.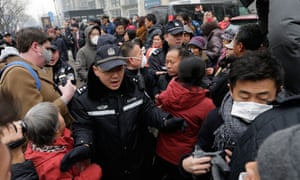 On Monday, Chinese security forces – including many wearing facemasks, apparently to conceal their identities – physically drove reporters, diplomats and protesters from outside a courthouse in Beijing where civil rights lawyer Pu Zhiqiang was being tried.
One correspondent was thrown to the ground while others were shoved, pushed and punched by the agents. Female journalists reported suffering vicious verbal abuse from the agents. A senior US diplomat was also bundled over by police as he tried to read a statement.
During a meeting in London on Wednesday, Hugo Swire, the Foreign Office minister, raised the incident with Chen Fengxiang, a senior Chinese official who joined the Communist party more than four decades ago. Swire told Chen such behaviour was "not acceptable".
In a statement after that meeting the Foreign and Commonwealth Office (FCO) said: "We are extremely concerned by events surrounding the trial of Pu Zhiqiang on Monday. The physical mistreatment of British diplomats and journalists at the hands of Chinese security services was completely unacceptable."
The FCO also condemned Chinese authorities' refusal to allow diplomats and reporters access to the supposedly "open trial" of Pu, who is facing eight years in prison for sending seven sarcastic tweets.
"The fact that they were refused access [to the trial] raises serious questions about due process and judicial transparency," the statement said.
An FCO spokesperson said the incident was also being raised "at all levels" by British diplomats in China.
Hong Lei, a spokesperson for China's foreign ministry, rejected British claims that the physical mistreatment of journalists and diplomats had been "completely unacceptable".
"The relevant people outside the court should have cooperated with the relevant requirements from China's public security agencies," he said on Thursday, declining to say how China had responded to Swire's protest.
Hong also dismissed British claims that there were "serious questions" over the fairness of Pu Zhiqiang's trial. "This is even more wrong. Foreign governments have no right to interfere in China's judicial sovereignty."
Britain has faced growing criticism over what many see as Downing Street's decision to "kowtow" to China in order to secure a lucrative "golden era" of relations.
Pro-democracy campaigners in Hong Kong accuse London of turning its back on the former colony's quest for democracy in order to curry favour with Beijing.
Last week the British embassy in Beijing also faced ridicule after choosing to commemorate the UN's international human rights day by quoting president Xi Jinping, who critics say has launched an unprecedented crackdown on dissent.
The rare decision to speak out over Monday's violence represents a major departure from normal policy on China under David Cameron.
It also follows days of pressure from British news organisations and those within the FCO who believe Britain has become too timid on confronting China over human rights violations.
During a trip to China in September, the chancellor, George Osborne, vowed not to engage in "megaphone diplomacy" with China over human rights issues.
In a statement issued on Monday the Foreign Correspondents' Club of China (FCCC) called on Beijing to halt its harassment and physical intimidation of foreign reporters.
The FCCC said the attempt to deter news coverage was "a gross violation of Chinese government rules governing foreign correspondents".